Have you ever encountered the following difficulties?

(1) When you need to dispense different solutions, you have to operate in different dispenser.
(2) The dispensing precision is not high enough which results in poor reproducibility.
(3) Conventional dispenser is difficult to dispense the liquid to only specific wells.
(4) The existing dispenser can not do nanoliter liquid dispensing if you want to miniaturize the experimental system.

Thanks to the CERTUS FLEX one-of-a-kind digital dispensing technology the days of tedious manual dispensing and error-prone dilution patterns are over. The CERTUS FLEX does this part of the job for you.

CERTUS FLEX for contactless dispensing of a broad range of liquid substances, such as cells, aqueous solutions, DMSO, DNA, proteins, alcohol, oils, enzymes, substrates etc. This is made possible with our renowned Gyger micro valve technology and air pressure control, giving you maximum precision and flexibility. The dispensing parameters of each channel are individually controlled by the intuitive and adaptable proprietary CERTUS CONTROL PC software and electronics.Thanks to the SiLA compliance of CERTUS CONTROL, you can rely on easy integration into your laboratory automation workflows such as HTS platforms.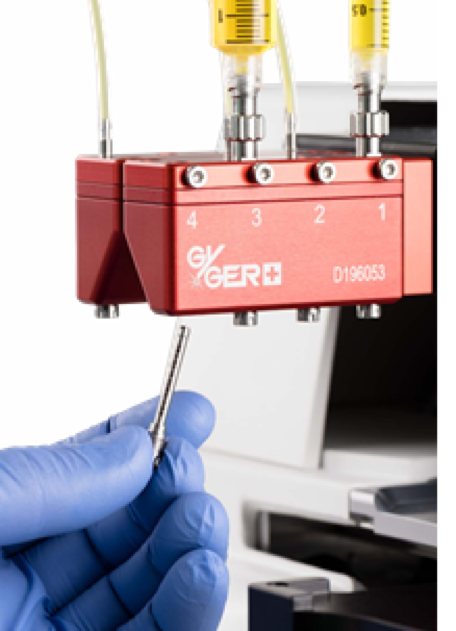 Features:

Independent Channel: Certus can dispense 1-8 liquids at the same time, equal to several conventional liquid dispenser.

Flexible Dispensing: Certus can define the dispensing position and volume, such as dispensing liquids of the same volume, increasing or decreasing volume, or backfill etc.

Large Range of Dispensing Volume: Dispensing volume of 50nl - 5ml, including nanoliter, microliter, milliliter volumes.

Large Range of Liquid Type: Including aqueous solution, DMSO, DNA, cell, protein, alcohol, oil, enzyme and substrate etc. Supports liquid with viscosity up to 15000 mPa.s.

Good Compatibility: Fully supports the SiLA protocol, and can be integrated with the main automation platform perfectly, including HighRes Biosolutions, Labcyte, Thermo Fisher Scientific, Agilent Technologies, Brooks, PerkinElmer, UK Robotics etc.

No Cross Contamination: Injective solenoid valve, non-contact liquid dispenser.

Accuracy and Precision: For dispensing volume of greater than 500 nL, accuracy is ± 1.5%; For dispensing volume of greater than 100 nL, CV < 2%.

High Speed and High Throughput: Only 13s for 384-well microplate, and 39s for 1536-well microplate.

Low Costs: A single solenoid valve can be used for >500 million times, equivalent to about 1 million 384-well microplate, and has small dead volume, the liquid can be completely recycled.


Applications:

1) Cell-biological and molecular biological research;
2) Pharmacological research and drug discovery;
3) Primary and secondary screening;
4) Genomics and proteomics research;
5) PCR and protein crystallography;
6) Synergy research;
7) Assay development;
8) Assessments of drug-drug interactions;
9) Environmental and chemical research;
10) Cosmetic development and testing;
11) Nutritional science and food technology.

These advantages make Certus Flex particularly suitable for dealing with complex liquid dispensing tasks, and it is an essential choice for high throughput laboratories.
(Please refer to the product mannual for information details.)